Open Science (OS) is on the rise and will change the research landscape in the next years. Many initiatives have the goal to make the entire research process more transparent and re-usable to increase the benefit of research for society. The University of Twente (UT) took note of these developments. Consequently, OS plays a key role in Shaping2030, UT's mission, vision, and strategy for 2020-2030. But don't worry, you'll never walk alone. The Open Science Community Twente is ready to help to make our research more reproducible and accessible at all stages of the research cycle, from planning to publishing and beyond.
Who we are
We are the Open Science Community Twente, an inter-disciplinary, bottom-up community to promote, learn, share, and discuss OS practices, such as
Open Access publishing and Preprints
Open Data, Open Code, and Open Source Software
Preregistration of scientific studies
Reproducibility and Replicability
Open Peer Review
Rewards and incentives
Citizen science
Open Education
Diversity of knowledge
OS infrastructures
We are one of the OSCs in the Netherlands...
... and together with the other OSCs in the world, we aim at making OS the new norm.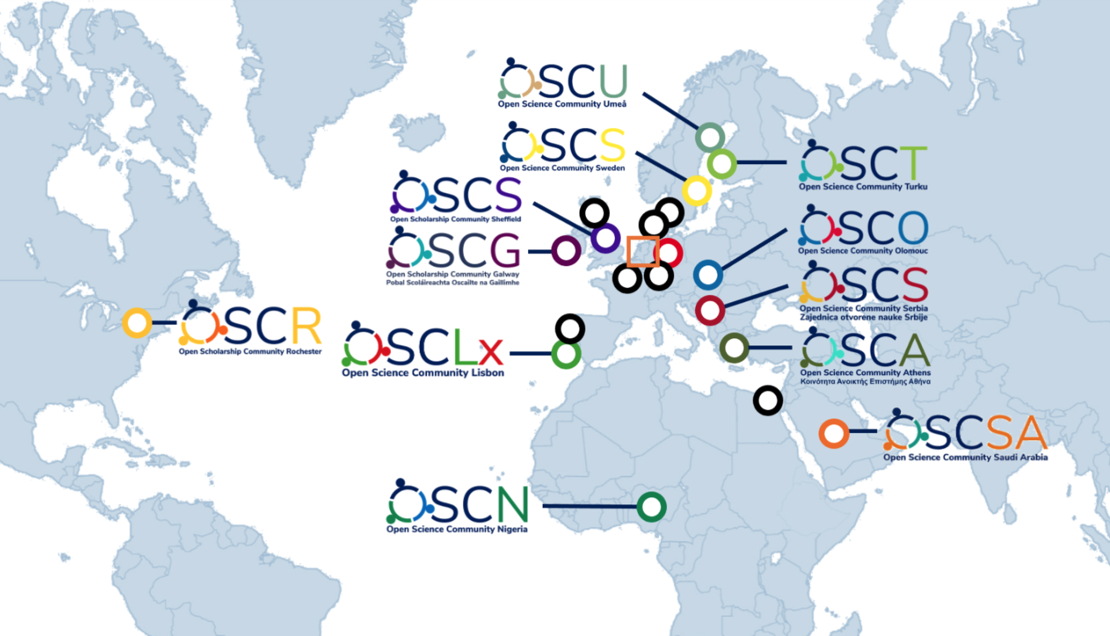 image credit: Anita Eerland; black circle: Open Science Community in the making
What we do
Our overarching goal is to assist UT in accomplishing the transition towards OS. To facilitate the broader adoption of OS practices, we  
make OS more visible and accessible within and outside UT,
organize events, seminars, and workshops,
facilitate knowledge exchange amongst peers,
support member initiatives focused on OS, and
connect with international OS communities.
Target group
Although our main target groups are researchers, Ph.D. candidates, and students from UT and Saxion University, the community is not built for researchers only. We welcome everyone who is involved, for example, in policies or teaching, and would like to get started with OS or bring the existing knowledge to the next level. If you are interested in OS and looking for information, this is the place to be! The OSCT provides a space where people interested in OS can come together to
ask questions,
look for support,
share (positive and negative) experiences,
acquire skills to make their work more open,
and connect with other enthusiasts.
So, don't hesitate to ask a question.
What's next? Sign up for our monthly newsletter, and we will let you know!
You can't wait and would like to get involved? Why not become a member just right now? No matter if you have little or expert knowledge about OS, just come with an open mind and be curious about the broad spectrum of OS topics.